Multipurpose Hanger Organizer (Buy 1 get 1 Free)
Rs. 999.00
Rs. 1,999.00
SAVE 50%
Don't have any space left in the Cupboard/Wardrobe?

Our 5-In-1 hangers have a collapsible design, which effectively frees up more space for storing clothes in your closet
THE BENEFITS
✔ KEEP ORGANIZED - Our space-saving Magic Hangers are the best way to organize and declutter your closet and wardrobe.

✔ FREE UP SPACE - Fit up to 5x more clothes in your closet, allowing you to maximize your closet space. 

✔ BROWSE WITH EASE - Our collapsible design lets you display your wardrobe neatly and conveniently, so you can browse through your entire wardrobe in seconds.

✔ CREASE AND WRINKLE-FREE - Our Magic Hangers are designed not to crease your pants. They keep your pants wrinkle-free and ready to wear! 
This organized

 

hanger can be folded,

 

more space can be saved for your closet
This

 

material is sturdy and not easy to be out of shape
Best for

 

apartments, villas, houses, dorms, etc. 
Multi-function hanger,

 

perfect for pants, scarf, belt, jewelry,

 

and other clothing accessories
You would love these organizers. They hold all your pants and keep your closet neat and tidy. Get two of these hangers for your closet, and try to convert all of your pants to this hangar. There's always space in your closet for each pair that's easy to access.
HOW DOES IT WORK?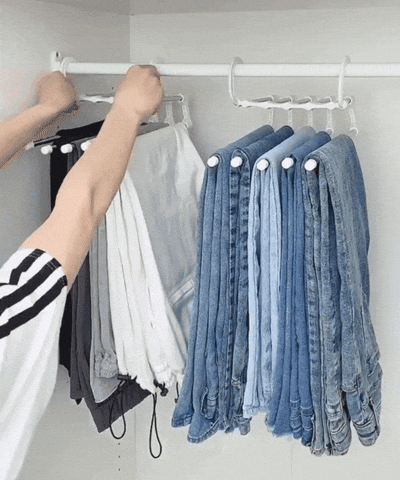 HANGING HORIZONTALLY
Two hooks in each side design which can hold pants steadily, no worry about leaning.
It can hold more than five pants at a time, put your pants in this organizer, it would bring you into a very nice mood during the day not only because of the neatness and tidiness of your closet but the folds free your lovely pants.
Give your ironed pants to this hanger to keep them neat


WHO IS IT FOR?
Poor quality and no refund
The items advertised by this company are actually very poor in quality. They are too expensive plus you may find some accessories missing and the best part is you cannot get a refund. They only allow replacement for items received in damaged condition.
Baditem
Didn't like the material. Poor balance
Ghatiya log hai bechne wale, dikhate kuch aur hai aur dete kuch aur, aur paise bhi bahot lete hai, review ke liye rating mang rahe hai, ye to rating ke layak bhi nahi hai, isliye 1 hi star diya majburi se
I have got the damaged one